How Innity Indonesia got quality leads for Nestle and British Petroleum
Brands have often struggled to get good, quality leads when running campaigns. One of the hardest being choosing the right platform.
At the beginning of 2021, Nestle Indonesia and British Petroleum approached Innity Indonesia to run campaigns to a very niche audience, requesting to target users based on their work experience and career background. Taking that into consideration, we proposed to run the campaigns on LinkedIn, a social media platform dedicated to industry professionals.
Unlike other social media platforms, users on LinkedIn are more inclined to share accurate information on their professions and work experiences. Both were multinational brands and well known to the audience. Coupled with Innity's professional experience in running LinkedIn's ad campaigns, it was the ideal platform to run Nestle Indonesia and British Petroleum's campaign.
Nestle Indonesia
LinkedIn is also a platform where companies post job vacancies and where people actively search and apply for jobs. Wanting to hire an Industrial Relations and Compliance Manager, Nestle Indonesia was looking for someone with at least 5 years of working experience in Law. Thus LinkedIn was the perfect platform for the sponsored content.
The content gave a short introduction about the job position and office location, interested candidates would then be landed to Nestle Indonesia's website with more details on the job requirements. The campaign started in February 2021 and ended in March 2021.
With Nestle Indonesia's office located in Jakarta, the sponsored content was also only targeted to those based in the main capital. The campaign was run just at the right time as well, with the pandemic in place, many people were looking for new work opportunities.
Innity's experienced ad operation team helped garner satisfactory results for the campaign in just a month, the campaign proved to be effective. The CTR was 5 times higher than the benchmark.
British Petroleum
British Petroleum's campaign ran a series of ads with different creatives, in 2 languages, to resonate better with the targeted audience. The ads were boosted on LinkedIn for a month, from April 2021 till May 2021.
Even with a niche audience of 35-55-year-olds of high seniority levels in the retail, wholesale, and oil, energy and mining industry, Innity team further strategized on the campaign targeting and was able to optimize the campaign to target the right audience group in LinkedIn's platform.
The ad called for the audience to own their own British Petroleum service station. An "Apply Now" CTA button landed the prospects to a simple form that allowed British Petroleum to gather data on their audience.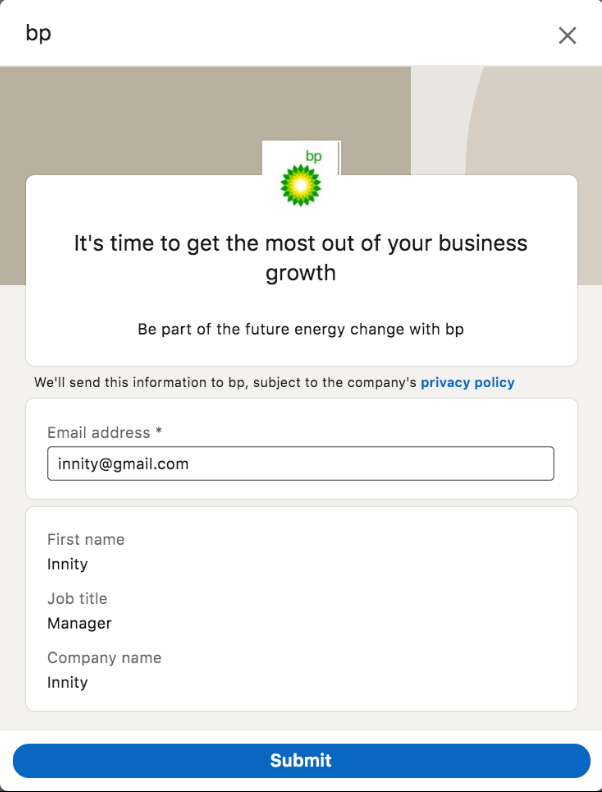 Through Innity's right audience targeting strategy and optimization, the campaign overachieved in terms of clicks and leads, with leads hitting 2 times higher than the initial KPI. The majority of the leads garnered were of high quality, bringing in information from company directors, CEOs, heads of departments, business owners and many more.
British Petroleum was very satisfied with the results, hence they've run another campaign with us during June 2021.
From these 2 successful campaigns, it can be seen how choosing the right platform and strategy to run ads are crucial in order to target the right people and obtain quality leads. A lot of aspects come into play when running a campaign. With years of experience, Innity can help guide you through on getting the most out of social platforms, tailoring each campaign to suit your brand and needs.
Ready to get high-value leads? Run your next campaign with us! Contact our Indonesia team at talktous@innity.com to find out how.