Have We Mentioned That We're on Mobile too?
Yeah. We are. Mobile is such a huge significant player in the industry it's hard for us to not want to join in the leagues of the big boys.
The undeniable fact is that mobile has established quite a standing with the increasing numbers of smartphone users. Research shows that 90% of people move between devices to accomplish a goal, therefore reaching out to customers who are on-the-go is more important than ever before. And with that in mind, Innity has launched our very own Mobile First View catered for brands to reach out to this increasingly large pool of audiences who are using mobile to access the net.
So what's it like you ask?
Innity's Mobile First View acts like a full page Site Take Over ad, but targeted to mobile web inventories. As with normal online ad interactions, the Mobile First View Ad will show up when a user visits a website using a mobile browser. The user may opt to interact with the ad or not, and any form of interaction that occurs will take place on the initial page the user visited. The user will be able to continue back to their browsing after closing the ad.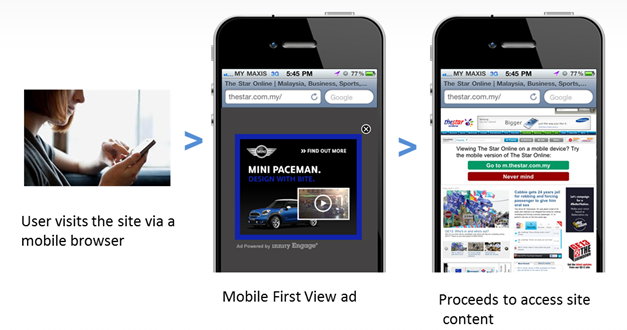 Since we'll be targeting mobile browsers, marketers will be able to have access to all users within our channels of networks – that means over the major mobile platforms – Android, iOS, and Blackberry. With Innity's wide reach across the South East Asia region, Mobile First View allows extensive reach across the region.  The inclusion of rich media support also allows brands to make an impact by delivering an engaging experience; while the full screen view increases sustained attention and possible interest of the viewers. All that boils down to one thing – the full power of the WWW working for you and your brand.
That's a brief summary our Mobile First View for you! If you're contemplating on reaching out to those who are on the go, do get in touch with us at sales@innity.com for more details. We will be more than happy to drown you with even more information!