Presenting Innity's Top Creatives in December!
We all knew that there's a great potential in mobile advertising when smartphone became the main digital screen that millennials spend most of their time looking at. Living in an environment of a hotbed for mobile growth, it's all about how creative and effective an ad can be to capture audience's attention and keep them engaged.
By utilising the functionality of mobile devices, Innity created ads that allow users to engage with finger touch gestures (for instances, pull up to play, spin for more information, long press to load video, and others) on the screen. In the following section, we'll be sharing with you some of our creative mobile ad campaigns from December.
Simply click on the links below to view the demo!
Advertiser: Coca-cola Philippines
Agency: Starcom Philippines
Product: Innity Engage Plus Pull Up
Coca-cola Philippines worked with Innity to promote their new app named Happy Shopmate by using Innity Engage Plus Pull Up ad unit. This ad allowed audience to play music instruments and create music through tapping on the coke's caps shown on the screen. It was made catchy and interactive enough to retain audience's attention, getting them to download and explore the new app.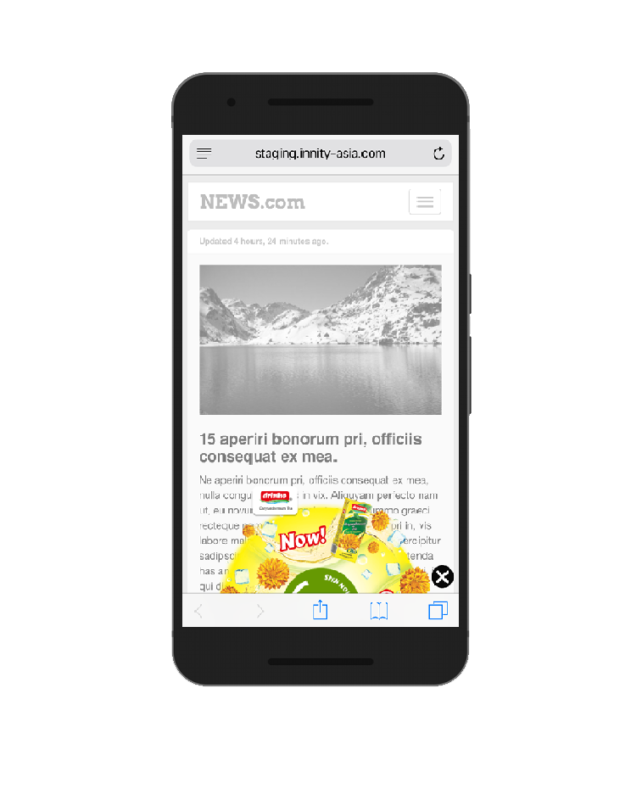 Advertiser: Ace Canning Corporation Sdn Bhd
Agency: K-Gic Advertising Sdn Bhd
Product: Innity Mobile Spin
Drinho's campaign utilised one of the latest ad formats of Innity, Mobile Spin, that allowed the users to engage with the brand through a different kind of interactive way. Instead of only clicking on the ad unit, users could spin it (using finger spinning gesture) to view the ad content. Users were also encouraged to click on the ad unit which will then expand into a full-screen ad that covers more of the product's information.
Advertiser: Amorepacific Sdn Bhd
Product: Innity Ebar Video
Our all-time-favourite cosmetic brand, Etude House, has come out with an ad campaign using our Innity Ebar Video for the launching of their new products. The ad started off with a horizontal teaser bar ad at the bottom of the page with a video thumbnail, a few seconds after the audience rolled over their cursor to the ad, the video would be enlarged to a full-page overlay ad. Audience could then be able to watch the promotional video to learn more about Etude House's new products.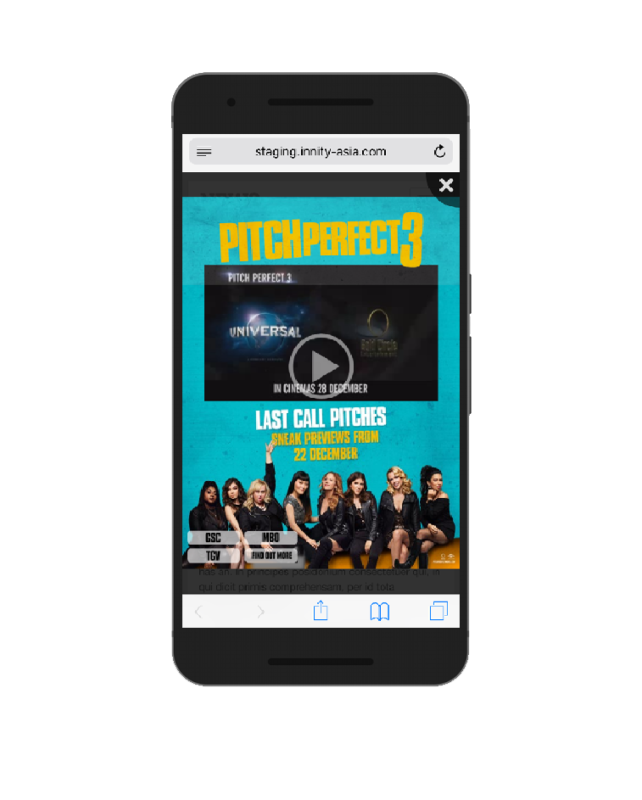 Advertiser: United International Pictures
Agency: Mindshare Malaysia
Product: Innity Mobile First View
Get ready Pitches! United International Pictures utilised one of the most direct yet effective ad formats of Innity for product launching and movie premiere to capture the attention and awareness of audience for the release of Pitch Perfect 3. It is a full-page ad unit with the movie's trailer and buttons directing users to the cinema's landing page for them to find out more about the movie and purchase movie tickets online.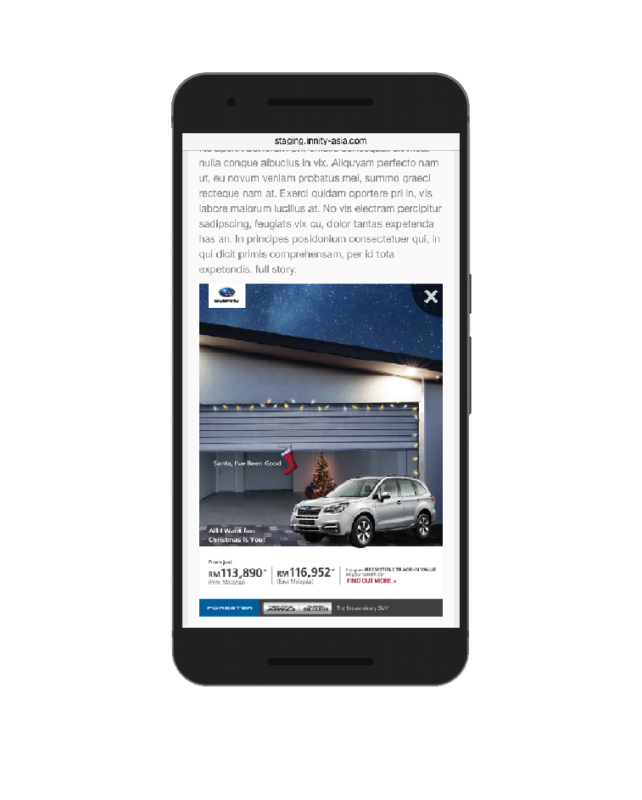 Advertiser: Subaru Malaysia
Agency: Trapper Media Services (M) Sdn Bhd
Product: Innity Mobile Grow
In conjunction with Christmas, Subaru Malaysia promoted their new SUV vehicle using the Innity Mobile Grow ad format. This ad unit gradually expands into a full ad, revealing the beautiful car as audience scroll down the page offering users the element of surprise. By appearing native on a page with an impactful display, the campaign managed to achieve great visibility and engagement. 
---
Curious to know more about our ad formats? Feel free to contact us!