Why Advertisers and Media Agencies Should Get Into Private Marketplace (PMP) Advertising This 2020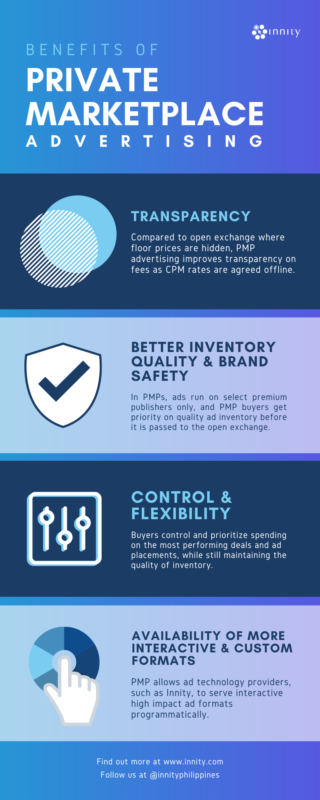 Do our ads appear on brand-safe environments? How can we ensure the quality of inventory for our ads? Are we spending our advertising money wisely?
In one way or another, you might have encountered these topics in your digital marketing meetings in the past year. The growth of programmatic spending, specifically on open exchange (RTB), greatly influenced the need for third-party ad verification, as more and more advertisers get concerned about brand safety and inventory quality.
Thus, programmatic platforms have evolved to address these challenges, by introducing Private Marketplace (PMP) deals. But how exactly does PMP answer these challenges?



What is PMP?
First of all, PMP stands for Private Marketplace. It is a type of programmatic transaction that allows publishers to invite selected advertisers to bid on their inventory programmatically in an auction. It's exactly how you would imagine a private auction house, only with display ads!
Unlike in an open exchange where all advertisers can participate, PMPs give publishers control over which advertisers get priority over programmatic inventory, thus improving the quality of ads shown on their websites. Buyers are not guaranteed with ad space as they need to bid and compete for the ad slots on an auction-basis.
How Does PMP Advertising Work?
A PMP transaction happens through the use of Deal IDs, which is a unique number combination provided by the publisher, that the selected advertisers use to target and run campaigns on their DSPs.
These Deal IDs hold inventory and targeting information such as the publisher's floor price, audience segments, and ad space inventory. All of which are agreed upon before securing and running the PMP deals.
How To Buy PMP With Innity?
To jumpstart your PMP journey, you may reach out to us at sales@innity.com, and let's agree on a package that fits your campaigns. The package entails the agreed target market, channels, formats, and CPM rates. Once the deal is made, our team will send you the Deal ID, which you can use to target the package on your DSP.
Benefits of PMP Advertising
There are several advantages that PMP advertising can offer to media buyers. Here are some of the immediate benefits a buyer can enjoy:
Compared to open exchange where floor prices are hidden, PMP advertising improves transparency on fees as CPM rates are agreed offline.
Better inventory quality and brand safety
In PMPs, ads run on select premium publishers only, and PMP buyers get priority on quality ad inventory before it is passed to the open exchange. In practice, publishers allocate more above-the-fold ad slots to PMPs compared to open exchanges to boost campaign performance and revenue.
Usually, PMP buyers transact with multiple publisher and ad network deals at a time. Buyers control and prioritize spending on the most performing deals and ad placements, while still maintaining the quality of inventory and website where the ads appear.
Availability of more interactive and custom formats
Ad technology providers, such as Innity, are able to capitalize on the advantages of PMP advertising. On top of quality websites and audiences, PMP allows Innity to serve interactive high impact ad formats programmatically. Check out some of the high impact formats available for programmatic deals here.
With more advancements like PMP being developed, competition in the industry will surely continue to grow. Ensuring better quality ads with better audience targeting will remain a top priority for marketers this decade, and PMPs are the best fit for addressing these challenges.
Click here to learn more about Private Marketplace.
For partnerships and other collaborations for your website, reach out to us through ph.marketing@innity.com
Follow us on social media: @innityphilippines #EngageWithInnity
—

Innity is a leading digital media company, that offers the best in class programmatic advertising platform, high impact display advertising, and data-driven audience targeting platform to publishers and some of the world's largest brands and advertising agencies.
Innity has presence in Malaysia, Singapore, Vietnam, Thailand, Indonesia, China, Hongkong, Philippines, Taiwan, South Korea, Myanmar, and Cambodia with more than 300 staff to-date.
Find out more about Innity and its services at www.innity.com