How Brands can use Live Streaming as their Brand Voice in Times of Crisis
The fact that online video content is taking over the internet has long been a well-known fact. Live streaming, one of the many forms of video content, has been popular among gamers and online shopping sites such as Taobao, Lazada and Shopee. Moreover, during the COVID-19 outbreak, China saw a double in the number of brands live streaming on Taobao itself, this shows how brands are relying on live streaming to tackle the impact of the crisis. However, it is still a relatively new territory for many brands to use it as a marketing tool.
One of the best examples that demonstrate the power of live streaming would be the sales generated during Malaysia Week 2019, an online campaign that promoted Malaysian products in China. Taobao hosted several live streams sessions and collaborated with eight influencers, highlighting more than 800 Malaysian products on its platform for a week. These live streaming influencers drove impressive sales results, with one of the influencers selling 3,000 units of teh tarik products in just 3 seconds, alongside 30,000 wafer biscuits and 20,000 durian pies. On top of that, 80,000 bottles and RM2.9 million worth of bird's nests were sold through the live stream sessions as well.
Here are a few methods of how brands are using live streaming today:
Seeing potential in influencer hosted live streams, Innity has also recently launched our live streaming packages for brands, allowing them to work with influencers from Passionation, Innity's own influencer marketing platform. Passionation has a growing database of over 20,000 influencers across 10 countries in APAC.
1. Influencer hosted live streams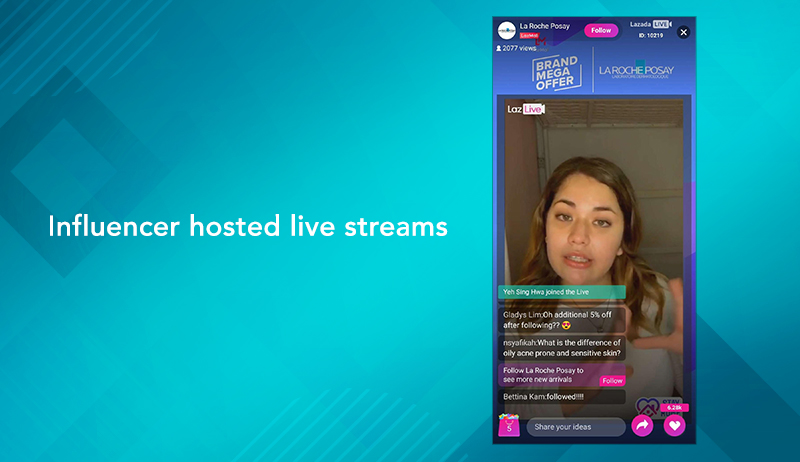 "We have seen an interesting trend recently of consumers spending more time watching live streams and purchasing products online reviewed by influencers." – Lee King Huat, Country Manager in Innity Singapore
Consumers engage more when sales pitches are from influencers they adore, influencers also bring in their followers and fans into the live streams as well, hence increasing your live stream audience and potential customers.
For instance, La-Roche Posay, a French Pharmacy skincare brand worked with Passionation Singapore in running an influencer hosted live stream on Lazada. Influencer Farkhanda Chaudhry, known as Anda on social media, shared her reviews of the products through the live stream while La-Roche Posay answered the audience's questions through the live comment sections. Anda also promoted the live stream on her Instagram account, encouraging her followers to join in for the session as well. With more than 20 thousand followers, she drove in audiences and also generated even more sales leads through her Instagram postings.
2. Q&A sessions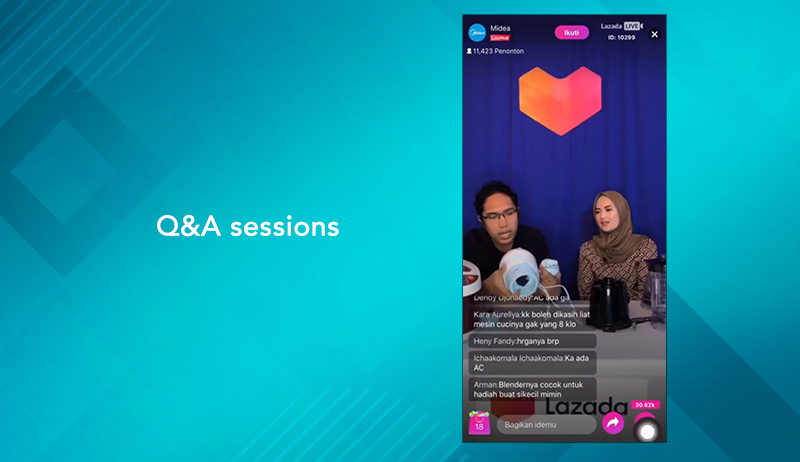 "Live streams are popular these days because it allows live demonstrations of the products and walkthrough of their functions while audiences ask questions and receive explanations instantly." – Nadya Rosalia, General Manager in Innity Indonesia
Live Q&A sessions answer consumer's concerns immediately, hence leading to instant sales conversions as well.
Working with Passionation's influencers, Midea also ran a live stream session on Lazada, with each session being hosted by an influencer and Midea's product expert. Audiences were able to voice out their concerns and questions through the live comment section in which Passionation's influencers would read through and consult the product experts, allowing them to provide further information for the audience.
3. Community building live streams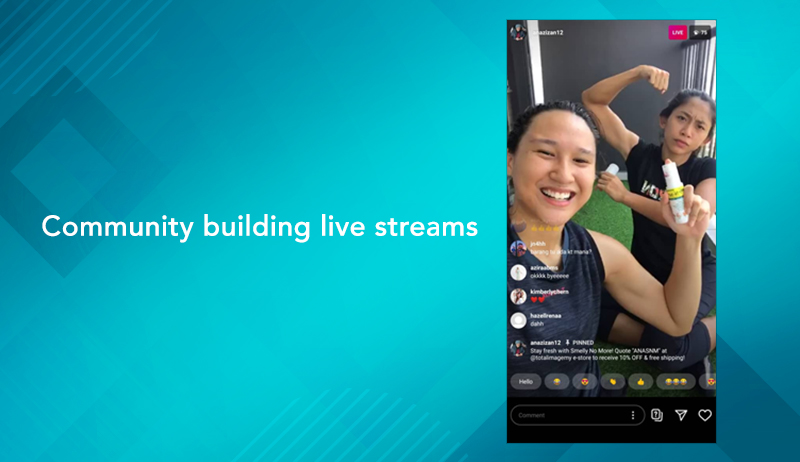 Social distancing makes people feel isolated and disconnected from the world, hence they find ways to stay connected online and being part of a community helps do so.
"Brands are using it to create engagement with the audiences and bringing meaningful content to help consumers stay positive through times like this. Some examples include virtual workout classes, informative virtual training workshops, skincare, and makeup sessions." – Emily Fong, Account Director in Innity Malaysia
Having an online community not only helps build a positive brand image but also allows brands to understand consumers' needs and wants in times of crisis.
Total Image also worked with Passionation's influencers by hosting a live virtual workout session on Instagram with their followers. Through their live streams, the influencers promoted Total Image's product, which received many followers' inquiries on their product.
So how can brands get results through live streaming?
1. Focus on strengthening consumer relationships
Brands can use live streaming to build and strengthen their consumer's community, addressing their changing needs and concerns.
"There are brands that run their live streams with promo codes and we've seen some conversion there. However, even if your brand does not see immediate results, it is still important that you stay connected with your consumers during this period of time. This ensures that when the economy bounces back, you'll be on the top of their mind!" – Emily Fong
2. Stay authentic
One of the fears of live streams is the live aspect of it as it comes with the risk of having hiccups along the way. However, that can also be seen as being authentic and true to your audience.
"One of my clients stated that the live streaming sessions helped with their sales increase, especially during sessions where they collaborated with influencers. I believe the authenticity of live streaming is it was one of the main reasons why it's so successful, it allows room for spontaneity, jokes, and imperfections. Therefore, live streaming enables brands to connect better to customers." – Nadya Rosalia
Still have your doubts? Here are some of the ways brands of all sizes can benefit from live streaming:
1. Grow your audiences
Potential customers are able to stumble upon your live stream and participate, giving them a stronger, lasting first impression. It also increases your brand's social media followings by encouraging your audience to like your content and page.
2. Humanize audience interactions
Brands can have more meaningful audience interactions by putting a human face on your brand. Real-time communication with the audience also provides immediate feedback and allows the audience to have some control over the live stream's content.
3. Increase customer relationship and brands credibility
Live streaming provides the audience with a much more in-depth and personal experience by getting to know the people behind the brand and identify themselves with it.
4. Fear of missing out (FOMO)
"What if I'll miss out on a great deal?" Live streams plants a sense of urgency into the audience and brings in not only more audience into your live streams, but more immediate sales leads as well.
Undeniably, live streaming is the next big thing of e-commerce, consumers are now viewing shopping as a form of entertainment and social experience as well. Hence live stream comes in as the perfect tool for brands to deliver content and connect with audiences online while promoting their products.
"One of the biggest beauty with live-streaming is being able to discover consumer's wants and using that knowledge to sharpen the brand's content strategy and up-sell the products to their audiences." – Lee King Huat
Brands are slowly starting to recognize the opportunities live streaming presents and perhaps it's time you take advantage of its benefits too.
We're here to help you get started!
Passionation's influencers range from different tiers and come from diverse industries such as fashion, beauty, photography, tech, gaming, and many more. Passionation not only helps brands in sourcing for suitable influencers tailored for their live stream content but also in script and content preparation. In addition to that, brands are also able to conduct their live stream sessions utilizing Passionation's own professional studio set up and production team. Brands are not limited to hosting their live streams on e-commerce platforms, but social media platforms such as Instagram and Facebook as well. On top of all that, brands are also able to extend their reach to a larger audience for their live streaming initiative by using Innity's most recently launched ​Live Streaming Ads​ package – bundling premium media traffic drivers and Passionation's influencers integrated branded content solution.
Reach out to us at talktous@innity.com for more information on how to kickstart live streaming for your brand!