Innity helped Head & Shoulders Challenge 6,700 People to Cut Their Own Hair!
The pandemic has brought on many changes in the day to day lives of people. From having to cut one's own hair to being much more conscious of one's health and hygiene, the simple things in life like going out to pick up some groceries now pose a risk to one's health and wellbeing.
With the whole world on lockdown, brands have been forced to become more creative in engaging and connecting with their audiences online. Across the board, brands have been rolling out digital campaigns to remind their audiences to #StayHomeStaySafe with their own brand adaptations.
Needless to say, these digital campaigns jived with the audience's newfound time spent online and isolation fatigue. By encouraging them to spread positivity and share their creativity on social media, this resulted in an all-time increase in user-generated content than before, especially in the form of short-form social videos.
Tapping into the shift in consumer needs and behavior was also one of Malaysia's most well-known shampoo brands, Head & Shoulders Malaysia. As with hair salons being forced to close and going to the barber wasn't an option, many consumers were experimenting with cutting their own hair and sharing the results on their social media platforms. Hence, the brand decided to engage with and inspire their audiences by running a branded hashtag TikTok challenge supplemented by a video ad on Youtube.
Utilizing a branded tune in the branded hashtag challenge and video ad, participants were dared to cut their own hair while promoting the Head & Shoulders' product series, Ultramen. In this challenge, the influencers shared their messy hair situation during the lockdown period and how they washed, trimmed, and styled the problem away with Head & Shoulders Malaysia's #HairsomeMan branded hashtag challenge on TikTok.
Working with Innity and Mediacom, Head & Shoulders Malaysia partnered with influencers such as Sean LJE, Hao Ren, Anthony Ng, Izzue Islam, and many more to drive contest awareness and traffic by participating in the challenge. Some of the influencers even gave the campaign a shout out on their social media accounts to broaden the audience reach.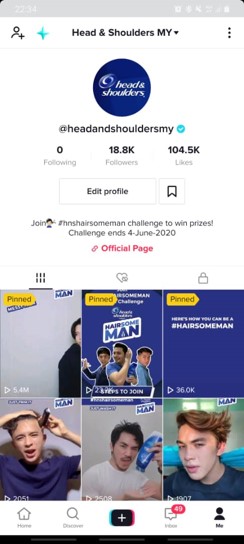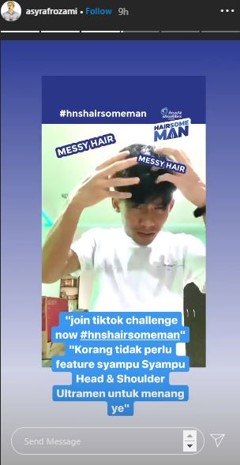 For campaign sustenance, Innity enlisted 22 micro-influencers and 25 seeders to take part in the TikTok challenge from our extensive influencer database of more than 6,000 influencers. To incentivize and motivate campaign participation, the brand gave out prizes and their Head & Shoulders Ultramen Cool Menthol shampoo.
The TikTok contest submissions from Innity's influencers who took part in their branded hashtag TikTok challenge #HairsomeMen were then reutilised into a Youtube video ad.
The Youtube video ad successfully connected with the viewers as they were able to relate with the content and inspire their DIY haircut. As a result, Head & Shoulders Malaysia's video ad was recently listed as one of the "Top YouTube Ads People Watched in APAC, June 2020" by Google.
Besides that, Innity's creative arm developed and ran in-feed, banner, and brand takeover ads on TikTok for the brand. These were further supported with Innity's 3D Post ad format that ran on Innity's large network of publishers' websites. Experience the ad here!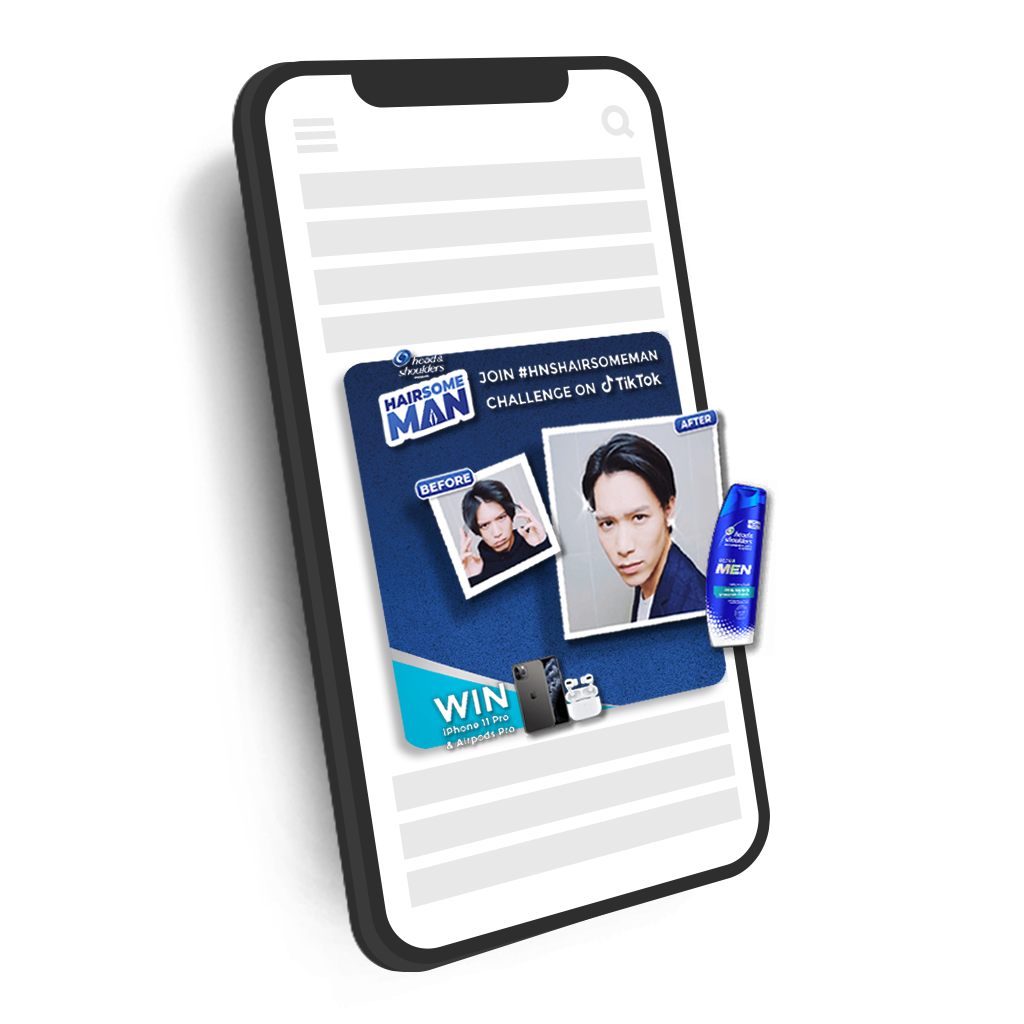 Overall, the campaign was a success and delivered impressive results. The Youtube video ad had over 2 million views while the #HairsomeMen challenge garnered 8.5 million video views, with 6.7 thousand video submissions on the TikTok platform itself. Even with the Ultraman range consisting only 11% of Head & Shoulders business, it contributed to 100% of Head & Shoulders value share growth, which has been struggling for the past 12 months.
The HairsomeMan campaign was also one of the key reasons for the share turnaround of the brand. From the months of May 2020 to July 2020, Head & Shoulders Malaysia's value share was 9%, gaining 0.1 points compared to the previous year.
Head & Shoulders was able to drive a 23% increase in unaided brand awareness, with 28% and 17% growth among Chinese and Malays respectively. They also saw a 48% increase in Top of Mind Awareness compared to the previous year, with 16% growth among Chinese and more than a double in growth among Malays.
On top of all that, Head & Shoulders gained back single ownership in May 2020 as the Most Superior Scalp Care brand. Through the campaign, Head & Shoulders Malaysia managed to build a stronger brand image and a genuine connection with their audience during this pandemic and lockdown period which is essential for maintaining brand affinity.