Suntory PepsiCo Vietnam works with Innity to run TikTok Hashtag Campaigns for Mirinda and 7UP
Suntory PepsiCo Vietnam SPVB is Innity Vietnam's first client to leverage on youngsters' increasing use of TikTok during the pandemic. SPVB was able to bring back two of their leading soft drink brands through the launch of two TikTok hashtag campaigns #MirindaNgonXoanLuoi and #VuDieuXuaNong for Mirinda and 7UP!
For many years, Mirinda has been known for its orange-flavoured soft drink, Mirinda Orange. Hence, Mirinda wanted to reintroduce and relaunch their Soda Cream flavour into the market, at the same time create more brand awareness through the TikTok campaign. While 7UP, one of the most well-known drinks worldwide decided to increase brand awareness on their lemon-lime flavoured soft drink.
Innity Vietnam easily tackled SPVB's brief in running branded hashtag challenges on TikTok and successfully managed the content for the hashtag challenges and recruited the ideal TikTok influencers to participate in the campaigns. TikTok audiences consist predominantly of youngsters, and SPVB was able to reach out and connect to them by tapping on their passion for creating content and expressing themselves.
With Innity's expertise in creative ad formats, Mirinda and 7UP also ran brand takeover ads, in-feed video ads, and in-app banner ads on TikTok. The ads brought in more audiences and TikTokers to join in the TikTok branded hashtag challenges. Other than that, prizes were also given out to participants with the highest views and fastest video entries!
Innity Vietnam came up with creative branded effects that were curated according to SPVB's brief. Both campaigns invited TikTok influencers to come up with creative videos like 7UP branded filter effect featuring their quirky brand mascot, Fido Dido! TikTokers danced along to Fido Dido's lively, energetic dance moves, and their interaction with 7UP's brand mascot further amplified 7UP's fun and positive brand personality towards the youngsters on TikTok.
Working closely with more than 200 influencers, Innity Vietnam's extensive influencer network also played a big role in gathering the right TikTok influencers, some of which are top TikTokers boasting millions of followers such as Linh Barbie, Tườnq Vy, Linh Ngọc Đàm, Trâm Đô, Thành Ý Võ, and many more! Innity's influencers helped drive in even more TikTok youngsters to take part in the #MirindaNgonXoanLuoi and #VuDieuXuaNong challenge.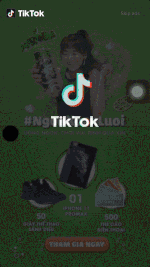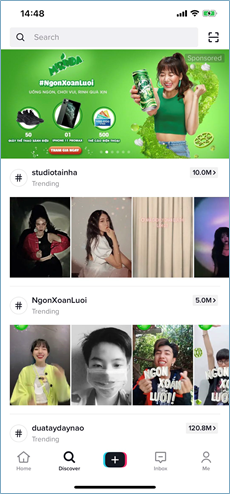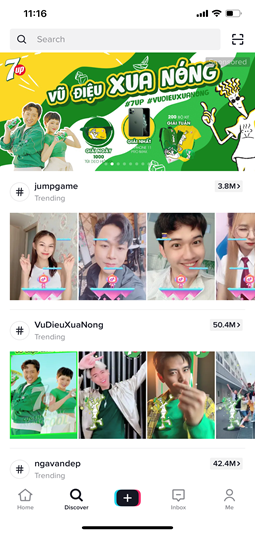 Through Innity Vietnam's implemented combination of branded effects in a hashtag challenge, various creative ad formats, and influencer marketing, the campaigns proved to be a success and the results greatly exceeded the client's expectations. The #MirindaNgonXoanLuoi TikTok Hashtag Challenge campaign received more than 60,000 video submissions and approximately 122.5M video views in total; while 7UP's #VuDieuXuaNong campaign garnered over 50,000 video submissions and 585.9M total estimated views.
As TikTok's official reseller across 22 countries, Innity is able to help brands in running campaigns and creative ads tailored to their campaign objectives. Innity's huge influencer network also allows brands to collaborate with influencers and leverage on influencer marketing in their campaigns.
To find out more about how you can start your TikTok campaign, contact us at talktous@innity.com!