Meet Consumers Where They Are With Discovery Commerce
Even before pre-pandemic times, consumers have been utilizing online platforms to browse and find inspiration before purchasing products. Currently, the shift from shopping in-store to online has accelerated and extended way beyond e-commerce. Consumers have now migrated to encompass as many activities as possible online, whether it be work, social or keeping fit, to keep this new normal behaviour indefinitely.
Business Insider has mentioned that the "average time spent per day with social networks increased from 56.23 minutes in 2019 to 65.44 minutes in 2020", which justifies the boom in e-commerce spending. This has led businesses to focus on consumer journeys and understand their path to purchase to level the playing field with other companies. Furthermore, with today's evolving technology, businesses also realized that instead of just shopping on digital e-commerce trends, it is now possible to let your products find your consumers with Discovery Commerce.
Let's first explore what Discovery Commerce is all about.
What is Discovery Commerce?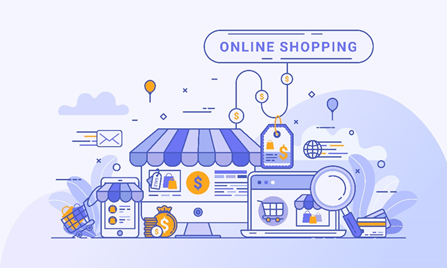 In a nutshell, Discovery Commerce enables a brand to go beyond their conventional marketing steps by helping their products look for people instead.
'Where e-commerce is about product search and purchases through a website, Discovery Commerce is not just about meeting consumers' needs but anticipating them.'
It allows products to find people and empowers commerce at the point of inspiration. Consumers are no longer limited to the bubble of brands, products or services they know but now imparted with 'likely to love' discoveries, anticipated to fulfil their needs and wants.
But how does it work? Let's find out below!
How does Discovery Commerce work?
Discovery Commerce is where advertising meets commerce, and it is a powerful strategy of guiding buyers towards a product. Discovery Commerce gives consumers a new and engaging online shopping experience by seamlessly blending content and e-commerce discovery moments, often also known as Shoppable content. Brands can now match the needs and interest of certain audiences, and the curation of these high-quality content is one way to entice users and connect with the brand better. With this initiative, brands can start making the commerce/publication site into a platform for content and inspiration that gives consumers a personalized "window" shopping experience with easier check-outs. These types of shopping can also be categorized as Discovery Shopping. For example, when buyers go window shopping in stores, they aren't looking for a specific product, but they are open to finding products they might like, such as Discovery Shopping, where buyers are open to exploring online catalogues receiving recommendations.
Moreover, even though e-commerce strategy aims to meet consumers' specific needs, Discovery Commerce truly has new ways of reaching consumers. Users can now "stroll" through stores virtually, browsing catalogues, just like in-store shelves, without any intention to buy until the perfect product catches their eyes.
Furthermore, no two people's interest is the same, but this strategy will help brands find audiences who want to hear from you when they are engaged with your brand with minimal friction, leading them to move from discovery to purchase. This initiative offers seamless shopping with fewer taps and helps brands fulfil unique consumer desires in a personal, exciting, and dynamic way. Thus, Discovery Commerce is where content meets sales.
With all Discovery Commerce has to offer, a question remains: How can brands make the most out of it to make every moment shoppable for their consumers?
Combine Shoppable Ads with Discovery Commerce, of course, and below are a few reasons why!
Why Your Brand Should Jump on Discovery Commerce With Shoppable Ads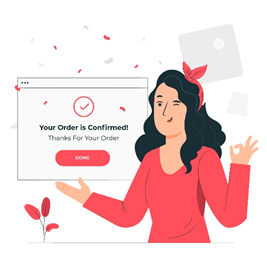 Once Discovery Commerce has connected with the right customers, brands should not miss out on it as a window of opportunity has been created. One of the most viable solutions is to combine Shoppable Ads across the Discovery Commerce channels.
Shoppable Ads are designed to help eliminate long sales journeys by having clickable content for consumers, creating a shortcut and streamlined purchasing process with enhanced user experience. When used within Discovery Commerce channels, they can be a powerful duo that many brands should incorporate into their strategies.
Since Discovery Commerce is driven by product discovery, guiding your potential buyers to find the products they are looking for in an online store or marketplace is more complicated than it appears, but that's where Shoppable Ads come in. One of the reasons consumers fail to convert with brands is often due to their impatience or confusion when browsing categories and subcategories. With Shoppable Ads being able to eliminate long sales journeys and provide immersive product-focused content, shoppers will be able to find what they love and convert with your brand more easily.
Additionally, Shoppable Ads within Discovery Commerce is also based on a user-friendly approach. The product information on Shoppable Ad's itself will help consumers focus on the excitement of purchasing something that has inspired them instead of going through products aimlessly. The duo will help brands meet consumer needs more effectively, and it will also be an opportunity for brands to connect with their consumers in a more profound, interactive and meaningful way.
Moreover, in this digital era, where speed is vital for pleasant consumer journeys, this partnership is crucial as provisions for faster check-outs could eliminate cart abandonments and clinching those valuable sale conversions. Thus, using Shoppable Ads within Discovery Commerce will help shoppers buy in just a few taps while assisting brands in reaching their consumers seamlessly and effectively to grow better relationships.
Hence, if you are looking to make your products more shoppable than ever through Discovery Commerce, why not consider Innity Shoppable ads?
Introducing Innity Shoppable Ads To Create Shoppable Moments With Discovery Commerce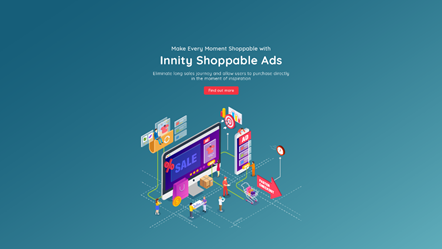 Innity's Shoppable Ads are a high impact ad that allows users to purchase directly in the ad format itself at the moment of inspiration and discover products they will love. Thanks to the rise in social media technology, we created these immersive ads to help consumers cut short their purchasing journey, making it easier for them to directly purchase social sites with attractive visuals that will surely entice attention.
Moreover, with our ads being high-impact and engaging, it offers consumers interactive experiences that can be placed programmatically. Programmatic display ads are no longer just traditional banners and native ads, as it now includes immersive and dynamic ad experiences that can reach a wide range of consumers at scale while educating and entertaining them.
Additionally, Innity's Shoppable ads' interactivity allows consumers to discover your products, which a great model for mobile users as the products can now appear to them. It creates a personalized experience for your consumers through feed management to centralize traffic around your products.
Do you want to incorporate this powerful advertising strategy within Discovery Commerce? Explore our wide range of ads like 3D Post+, Mobile Cards, Mobile Engage Pull 2 and more or read our previous blog post 5 Powerful Reasons Why Shoppable Moments Creates A Wow Factor For Your Brand to understand why Shoppable ads should be deployed for significant benefits to your brand, especially now with Discovery Commerce.
Lastly, if you'd like to speak to us, book a demo, or get a FREE review to boost your digital commerce experience, email us at talktous@innity.com, and our team of experts will get back to you in no time.